Marketing to and Doing Business with Multicultural Consumers
Changing consumer demographics
Today's multicultural consumers
Engaging multicultural consumers
Regardless of where you offer banking and financial services, the demographics are changing and must factor into your plan to remain competitive in the marketplace. Demographics affect every market, because no sector of the economy will be immune to the changes that occur. 
Demographically, the U.S. consumer population is growing, aging and diversifying. The most rapidly growing age segment in the U.S. is and will continue to be the 55+ group, leading to greater spending on services at the expense of spending on goods. 
There will be growth at the younger end of the age spectrum too, as Millennials reach their prime household formation years. Marketing to this generation is challenging. Their mind set and approach to the marketplace in general, and banking and financial services in particular, are radically different from preceding generations. 
The changing multicultural makeup of the U.S. is another important demographic consideration. According to the U.S. Census Bureau, 92 percent of the total growth in the U.S. population from 2000 to 2015 came from multicultural consumers.1 So, understanding the cultural essence that drives multicultural consumer behavior today will not only provide a clear vantage point for future market trends, it will also help forge long-term and rewarding relationships with these growing consumer groups.
Source: U.S. Census Bureau. 2013-2017 American Community Survey 5-Year Estimates
The population explosion and geographic dispersion of multicultural consumers are key drivers of diversity and evolving buying behavior. Multicultural consumers are rapidly becoming the core of the U.S. population. By 2045, the ethnically diverse population in the U.S. is expected to outnumber the historical majority, i.e., non-Hispanic White. The two primary drivers for this growth are Hispanic and Asian ethnic groups.3
Ethnic Composition of the U.S. Population in 2015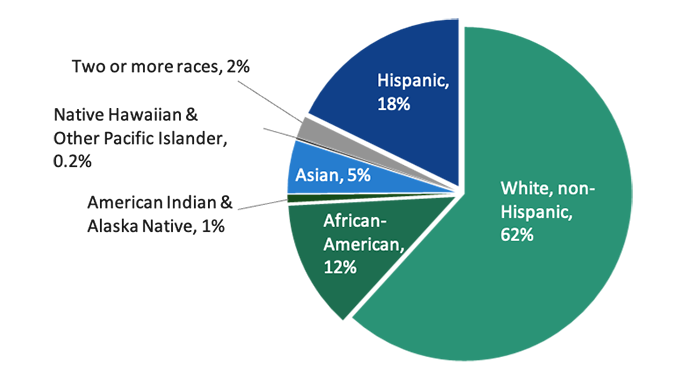 Ethnic Composition of the U.S. Population in 2035 (Forecast)
Source: U.S. Census Bureau
The United States is now the second largest Spanish-speaking country in the world,4 with approximately 58 million Hispanics or Latinos. Although the median earnings of Hispanics are significantly lower than the median earnings of the total U.S. population1―a result of the lower education levels5 and other factors―the combined buying power of this fastest growing ethnic populace is expected to increase to 1.7 trillion U.S. dollars by 2020 as compared to 0.5 trillion U.S. dollars in 2000.6
This provides the perfect opportunity to attract this massive but largely untapped buying power when it comes to banking and financial products. According to the latest FDIC survey,7 almost 43 percent of Hispanic households are unbanked or underbanked. Moreover, the Consumer Financial Protection Bureau found that households where only Spanish is spoken are five times less likely to use a bank or credit union.8 That's a big deal, because Hispanics are the largest ethnic minority in the U.S., accounting for about 18 percent of the population.
It's important to understand that Hispanics and non-Hispanics differ in their definitions of prosperity. According to the 2017 Univision study,9 Hispanics define success as daily progression, moving forward and living the American dream, whereas the majority of other ethnic groups focus on stability, freeing themselves from stress and being comfortable. So when it comes to handling finances, Hispanics are more likely to use immediate or short-term solutions like check-cashing services, money orders, pre-paid cards and payday loans, but least likely to invest in savings and retirement accounts.10 Studies also show that Hispanics are less likely to own credit cards than non-Hispanics, but they are more likely to carry a balance if they do have plastic.11
What can retail banks and credit unions do to earn the business of the growing but underserved Hispanic consumer population? Here are a few helpful findings.
The FDIC National Survey of Unbanked and Underbanked Households7 identified privacy, fee transparency and predictability as key factors in engaging Hispanic consumers in banking and financial services.
When it comes to retail lending and credit card products, the National Council of La Raza (NCLR), the largest national Hispanic civil rights and advocacy organization in the United States, recommends the following:14
Offer more fairly priced and transparent credit, such as "starter credit" options with affordable secured cards and small loans that report to credit bureaus so as to help Hispanic consumers build their credit histories.
Hispanics are more likely to be dissatisfied with the financial information currently available and to not know which services are right for them. Building financial counseling networks with public-private partnerships to educate Hispanic consumers will go a long way for financial institutions.
A study by the University of Virginia made several recommendations for banks and credit unions trying to reach Hispanic consumers, including the use of mobile banking, because Hispanics who lack home Internet access tend to connect to the web via smartphones.15
Finally, UnidosUS research suggests that banks and credit unions should go beyond tailor-made product offerings to attract Hispanic consumers. Hispanics want to bank where they feel welcome, where they find familiar staff who speak their language and understand their culture.16
U.S. Hispanics and Mobile Banking17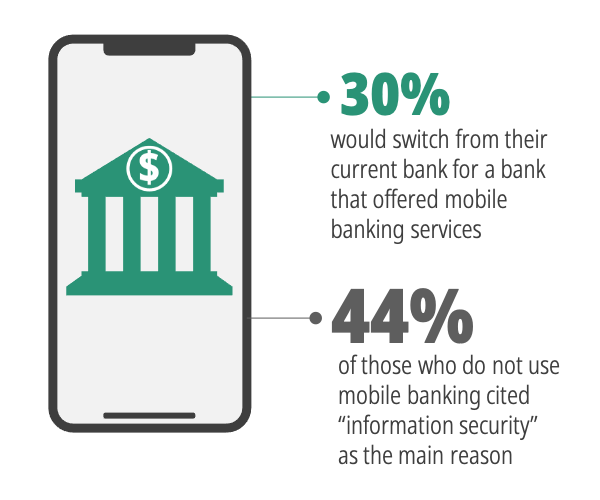 U.S. Hispanics' Use of Banking and Financial Services9, 13
Source: Univision 2017; Simmons 2017
Asian Americans comprise the second-largest minority group in the U.S. According to the U.S. Census Bureau's latest estimates, more than 21 million people of Asian origin reside in America, accounting for nearly 6.5 percent of the total U.S. population.1
Asian Americans are the most prosperous and educated of any U.S. racial and ethnic group. They have the highest average household income at $80,398. With 52.7 percent of Asian Americans having at least a bachelor's degree,1 providing college tuition for their children is a prominent financial goal, as revealed by the recent Prudential Financial survey.19
Perhaps the most notable aspect for marketers is the burgeoning buying power of this consumer group, which grew by a whopping 199 percent in the past 15 years, outpacing gains in disposable income of Hispanics, Whites, African-Americans, and other ethnic groups.2 According to the University of Georgia's Selig Center for Economic Growth, the current buying power of Asian American consumers is $986 billion, and is projected to grow to $1.3 trillion by 2022.2
This is great news for retail banks and credit unions, as Asian Americans are active consumers of banking and financial products with the lowest numbers of unbanked (2.5%) and underbanked (17.5%) households among all other ethnic groups, second only to non-Hispanic Whites in the number of fully banked households (69.2%).7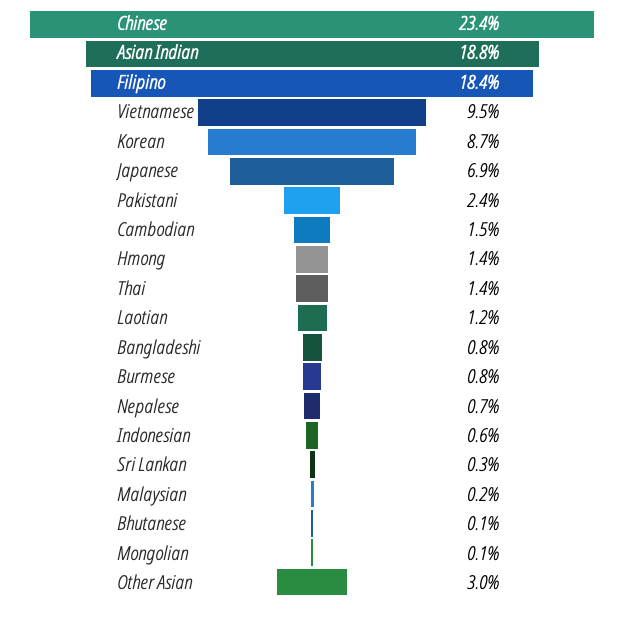 Asian American consumers originate from 40 different countries and speak dozens of languages. Therefore, retail banks and credit unions should be aware of the marketing pitfalls when attempting an overly broad approach to this consumer group. Prudent marketers should familiarize with the specific consumer subset(s) they aim to engage and find experts who know how to reach those customer segments.However, banking and financial institutions can take note of certain similarities that occur among the diverse Asian American groups. Several studies of the Asian American buying behavior and financial experience reveal that:
They are united by a shared focus on financial progress, long-term stability and familial security (with over 20 percent of Asian Americans providing financial assistance to their relatives vs. just 6 percent of the U.S. general population).19
They rank retirement-related goals among their top financial proprities.19
They are more inclined to seek out information before making an investment or another financial decision. On average they consult more resources than other consumer groups with preferred sources of information cited as family (44%), followed by friends (37%), financial consultants (36%), social media (18%), investment clubs (13%) and faith-based organizations (13%).19
They are predictive adopters of new media platforms, online shopping and banking, smartphone and other mobile device use, including access to mobile banking.20
Hyper-targeting Subsets of Asian Americans
Source: U.S. Census Bureau, 2013-2017 American Community Survey 5-Year Estimates
Asian Americans' Financial Product Ownership19
Source: Prudential Financial
Of course, U.S. Hispanics and Asian Americans are not the only two ethnic groups of consumers seeking access to banking and financial products. According to the U.S. Census Bureau, there are almost 87 million ethnically diverse consumers in the U.S., representing virtually every cultural group from around the globe.1
More than 26 million of these consumers23 find access to banking and financial services complicated by their limited English proficiency, which, according to the U.S. Government Accountability Office (GAO), directly contributes to the lack of financial literacy. Other factors determined by GAO that affect the lack of financial literacy for nonEnglish speakers are lack of familiarity with the American financial system, cultural differences in views on debt, lower levels of education among many ethnic groups, and lack of trust in banking and financial institutions; a mistrust that often stems from cultural biases.22
Regardless of the ethnic group, service in-language and in-culture is important to every customer. Financial companies that make sincere efforts to engage diverse ethnic segments are rewarded with loyal consumers who deliver growth.
Native Languages of Limited English Proficient* U.S. Adults23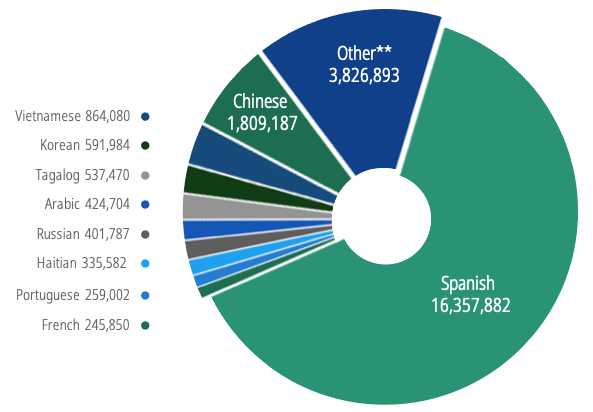 * "Limited English proficient" here refers to those who reported speaking English less than "very well" or not speaking English at all. ** "Other" includes Amharic, Somali, or other Afro-Asiatic languages, Polish, other languages of Asia, Japanese, Ilocano, Samoan, Hawaiian, or other Austronesian languages, other Indo-European languages, Italian, Persian (incl. Farsi, Dari), Hindi, Thai, Lao, or other Tai-Kadai languages, Nepali, Marathi, or other Indic languages, German, Yiddish, Pennsylvania Dutch or other West Germanic languages, Gujarati, Urdu, Bengali, Ukrainian or other Slavic languages, Punjabi, Khmer, Yoruba, Twi, Igbo, or other languages of Western Africa, Armenian, Hmong, Serbo-Croatian, Greek, Telugu, other and unspecified languages, Swahili or other languages of Central, Eastern and Southern Africa, Malayalam, Kannada, or other Dravidian languages, Tamil, Hebrew, Navajo, other Native languages of North America.
Appendix A: Workgroup Makeup
Other U.S. ethnic groups*
Mexico (60%), the remaining 40% originate from the Caribbean, Central America and South America
More than 19 subgroups. Top 5 are Chinese, Asian Indians, Filipino, Vietnamese and Korean.
Varies by ethnic group from $41,882 to $60,734
Years of effective buying power (=life expectancy24 – median age1)
81.8 yrs. life expectancy – 28.7 yrs. median age = 53.1 yrs. of effective buying power
84.9 yrs. life expectancy – 36.7 yrs. median age = 48.2 yrs. of effective buying power
$986 billion. Expected to grow to $1.3 trillion by 2022
Use of banking & financial products7
49.7% fully banked 28.9% underbanked | 14% unbanked
69.2% fully banked 17.5% underbanked | 2.5% unbanked
55.8% fully banked 28.0% underbanked | 12.8% unbanked
Preferred channel(s) to receive information about products and services
Mass Media (audiovisual, e.g., TV ads, TV shows) | Social Media | Online ads | Peers (friends, family)
Family & friends | Financial professionals | Social media | Investment clubs | Faith-based organizations
What they look for in a bank
Familiarity/local branch | Fee transparency | Privacy | Predictability | Mobile banking | Services in-language & in-culture
Trust | Fee transparency19 | To "be in control" of their finances | Digital services (mobile and online)25 | Services in-language & in-culture
Varies by ethnic group Services in-language & in-culture
Short-term Day-to-day progression
Long-term Familial stability & financial security
Speak English less than "very well" 45.2% among 18 to 64 y.o. 62% among 64+ y.o.
Speak English less than "very well" 46.2% among 18 to 64 y.o. 70.3% among 64+ y.o.
Speak English less than "very well" 31.6% among 18 to 64 y.o. 46.3% among 64+ y.o.
33% "know nothing about financial services"12
31% "very well prepared" 12% "beginner and need to gain a lot of knowledge and experience"19
Addressing the Communication Needs of Multicultural Consumers
Assessing the language needs of consumers
Providing centralized support for language-related initiatives
Establishing translation and interpretation systems
Training staff in language and cultural competencies
Offering platforms for interaction with multicultural consumers
The Consumer Financial Protection Bureau, in 2017, surveyed a number of financial institutions of various sizes to learn how they engage and serve multicultural consumers.26 The study revealed that consumers with limited English proficiency (LEP) face unique language and cultural barriers across all aspects of the financial services industry. Fortunately, the surveyed organizations identified five common areas that can allow retail financial institutions to bridge that gap and reach the growing multicultural consumer segments.
It begins with assessing the consumers' language needs. Many banking and financial organizations review demographic data about the areas they serve to determine their customers' likely language preferences. Some institutions with a national footprint mostly focus their resources on building capabilities to serve Spanish-speaking consumers, while regional institutions tend to align their language resources with local demographics. This is consistent with their respective general marketing strategies. National retail banks and financial organizations focus mainly on attracting consumers to their brands. By contrast, regional institutions try to attract consumers to their local branches by highlighting positive customer experience, expertise and their reputation in the local community in addition to marketing specific products and services.
There are multiple resources for demographic and socioeconomic data available, including:
The U.S. Census Bureau offers in-depth demographic information on a national or local level, American Community Survey, community quick facts.
The U.S. Bureau of Labor Statistics provides marketers with data on consumer price index, socioeconomics, wages by area and occupation, etc.
The National Bureau of Economic Research provides current macroeconomic data.
Source: U.S. Census Bureau. 2013-2017 American Community Survey
According to Bain & Company (the inventor of the net promoter score), retail banks and credit unions can stay ahead of the competition by appealing to the emotions of their target consumers. The company claims that delivering an emotional element of value increases customer satisfaction and loyalty 1.5 times more than adding a new functional element, such as a new product or service.27 Offering banking and financial products and services in limited English proficient (LEP) consumer's native language delivers, in addition to the actual service or product, a proven emotional value for the consumer.28
Depending on the size of the financial organization, however, the provision of language access can be a major undertaking. Many larger institutions that provide language services find it more effective and beneficial to have a centralized point of contact that provides internal technical assistance to the institution's employees on language-related initiatives.
Generally, the language-related technical assistance point of contact within a financial organization is part of the shared services center or another intra-organizational unit. Its functions may include annual review of processes and procedures for using languages other than English, evaluation of the areas of business that would most benefit from LEP services, development of the quality-control mechanisms, establishing translation and interpretation policies, among others, and managing third-party language services providers, where applicable.
As a result of the rapidly changing consumer demographics, many financial institutions endeavor to have systems in place for written translation and verbal interpretation, whether using internal resources or with the assistance of third-party vendors, to help ensure consistency and accuracy when engaging and dealing with multicultural consumers. When it comes to the translation of financial documents and marketing materials related to financial services and products, best practices for success are:
Keep it clear. In some cases the challenge is not translating materials, but rather ensuring that materials are written at a reading level that is accessible to the average U.S. adult regardless of the language used.
Translate ideas, not words. Some languages may not have equivalent financial concepts. Translate for meaning, rather than word for word.
Use back-translation. Ensure that all translated financial concepts are accurately rendered in a foreign language by back-translating content into English.
Use consistent terminology. Keep internal and external terminology consistent by using bilingual glossaries for the top languages used by your consumers.
Use technology. Specialized Computer-Assisted Translation (CAT) tools, such as translation memory and terminology management systems, can greatly boost translation productivity and consistency.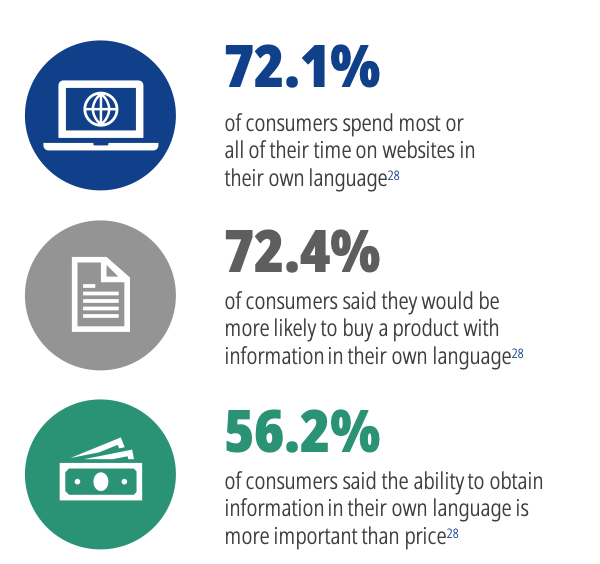 Source: Harvard Business Review
It is generally understood that language cannot always be separated from culture; that offering information in languages other than English does not necessarily mean that all limited English proficient (LEP) populations will be able to access, understand or use the information provided. For that reason, those who translate information or interact with multicultural consumers must live in both worlds and understand both cultures. It ensures that the message is clear and culturally appropriate.
Banks, credit unions and other financial institutions that provide language services use various methods to ensure that staff and contractors have the necessary language and cultural understanding to serve LEP consumers. Because employees are in the best position to act as brand advocates for any company, many organizations hire employees with foreign-language fluency, cultural competency and financial expertise. Even institutions that primarily rely on third-party translators or interpreters often retain some language and cultural experts on staff to provide quality control.26 In all cases, it is important to require either an internal or external validation of written and verbal competency in both English and the second (foreign) language for said staff.
Speaking in Customer Values
National culture may affect how individuals within this culture view and manage money30
Source: Hofstede Insights. The 6 Dimensions of National Culture.
When today's multicultural consumers evaluate financial institutions, they do not compare banks anymore, they compare experiences. Therefore, offering platforms for interacting with diverse consumers is essential to retain customers and successfully market banking and financial products. Retail banks and credit unions can use a range of approaches to interact with LEP consumers in their preferred language in different settings:
Written materials: translating written content, including service terms, fee descriptions, bank statements, contract forms and other essential written content into top foreign languages spoken by their target consumer demographics;
In-person communication: hiring bilingual and bicultural tellers, loan officers and other customer-facing staff. For languages not spoken by vetted bilingual staff, customer interactions can be interpreted via phone, video or in-person by professional third-party interpreters;
Telephone customer service: many financial institutions use a combination of bilingual staff and third-party telephonic interpreters to provide support to consumers who speak rare languages through their customer service call centers;
Digital services: driven by a fundamental shift in how business gets done, where staying relevant means becoming an active part of a customer's digital experience, many financial institutions choose to localize their websites, online and mobile banking apps, and ATM user interfaces into the top foreign language(s) spoken by their target consumer demographics.
The effective integration of LEP consumers into the financial marketplace through these various touch points has the potential to create positive benefits for consumers and the retail financial services industry.
If You Build It, They Will Come
Source: Zpryme, ThinkNow.
By partnering with an experienced language solutions agency with expertise in multicultural communication, retail banks and credit unions can attract diverse consumer groups and help their limited English proficient customers navigate the complex financial marketplace.
MasterWord offers a full suite of specialized language services to retail banks, credit unions and other organizations in the retail financial services industry. We custom-fit our solutions to each strategy and every segment of your target audience. Our professional translators and interpreters are strictly vetted and tested for linguistic, cultural and subject-matter expertise.
Written translation of financial, legal, analytical and other types of written content Transcreation and cultural adaptation of marketing collaterals Multilingual desktop publishing and design
Online and mobile content localization Audience segmentation and profile resulting in higher user engagement and conversion rates Content analysis, adaptation and transcreation Linguistic and functional testing Multimedia localization (transcription, subtitling, voice-over)
Glossary development and terminology management Style-guide development (for global brand and per demographic segment) Development and maintenance of translation memory and terminology databases
Interpreting services in 250+ spoken languages and dialects, plus American Sign Language (ASL) Over-the-phone interpreting (spoken languages only) Video remote interpreting In-person interpreting
Language assessments to validate the English and foreign-language proficiency of bilingual staff and job applicants
Cultural competency training offering immediately usable strategies for approaching cross-cultural communication, building rapport with diverse consumer groups, establishing trust and strengthening customer loyalty
Language identification tools useful for identifying consumers' language needs
1. Bureau, U.S. Census. 2013-2017 American Community Survey 5-Year Estimates. factfinder.census.gov
Humphreys, J. (2018) 2018 Multicultural Economy. Report. Selig Center for Economic Growth. University of Georgia.
Bureau, U.S. Census. Data tables. census.gov/data/tables.html
Burgen, S. (June 29, 2015). US now has more Spanish speakers than Spain – only Mexico has more. The Guardian. U.S. Edition. https://www.theguardian.com/us-news/2015/jun/29/us-second-biggest-spanish-speaking-country
Bureau, U.S. Census. Earnings Gap by Census Bureau Data on Educational Attainment. census.gov/data/tables/timeseries/demo/income-poverty/historical-income-people.html.
Statista – The Statistics Portal. (2019). Buying power of Hispanic consumers in the United States from 1990 to 2020 (in trillion U.S. dollars). statista.com/statistics/251438/hispanics-buying-power-in-the-us.
Federal Deposit Insurance Corporation. (2017). 2017 FDIC National Survey of Unbanked and Underbanked Households. fdic.gov/householdsurvey/2017/2017report.pdf.
Correal, D. (July 14, 2016). Immigrants facing unique financial challenges. Consumer Financial Protection Bureau. consumerfinance.gov/about-us/blog/immigrants-facing-unique-financial-challenges.
Ruiz, R. (Oct. 26, 2017). Banking on Hispanics for Growth. Univision Communications Inc. corporate.univision.com/blog/finance/2017/10/26/watch-webinar-banking-hispanics-growth.
Richman, K., Barboza, G. et al. (June 2008). La Tercera Edad: Latinos' Pensions, Retirement and Impact on Families. Institute for Latino Studies, University of Notre Dame. Research Reports, Vol. 2008.1.
Federal Reserve Board 2016 Survey of Consumer Finances. 2016 SCF Chartbook. federalreserve.gov/econres/files/BulletinCharts.pdf.
Hispanic Finances and Financial Services. Report. (March 2009). Mintel.
Simmons National Consumer Study, Spring 2017. simmonsresearch.com/2017/10/10/la-oportunidad-hispanics-personal-finance
National Council of La Raza. Survival Spending: The Role of Credit Cards in Hispanic Households. http://kirwaninstitute.osu.edu/FairHousing_FairCredit/graciela_ aponte_la_raza.pdf.
Fairchild, G., Rai K. Perdido en la traducción: The Opportunity in Financial Services for Latinos. University of Virginia, Darden School of Business, Tayloe Murphy Center. https://translationjournal.net/e-Books/perdido-en-la-traduccion-the-opportunity-infinancial-services-for-latinos.html.
UnidosUS. (Jan. 26, 2018). Banking the unbanked: What's important for Latino consumers. blog.unidosus.org/2018/01/26/bankingthe-unbanked-latino-consumers.
BankNews. Top 10 Hispanic Mobile Banking Trends. banknews.com/blog/top-10-hispanic-mobile-banking-trends.
Lopez, G., Ruiz, N.G., Patten, E. (Sept. 8, 2017). Key facts about Asian Americans, a diverse and growing population. Pew Research Center. pewresearch.org/fact-tank/2017/09/08/key-facts-about-asian-americans.
Prudential Financial. (2016) Asian American Financial Experience. Report. prudential.com/documents/corp/AsianAmerFinExperReport.pdf
The Nielsen Company. (May 2018). Asian Americans. Digital Lives and Growing Influence. nielsen.com/content/dam/corporate/us/en/reports-downloads/2018-reports/asian-american-consumer-report-may%202018.pdf
Carrasco, M. (Oct. 8, 2018). Thinking of Marketing To Asian Americans? Here Are Three Tips To Get You Started. Forbes. forbes.com/sites/forbesagencycouncil/2018/10/08/thinking-of-marketing-to-asian-americans-here-are-three-tips-to-get-youstarted/#26f48a5a21fe
United States Government Accountability Office. (May 2010) Factors Affecting the Financial Literacy of Individuals with Limited English Proficiency. Report to Congressional Committees. https://www.gao.gov/new.items/d10518.pdf.
Bureau, U.S. Census. American FactFinder. Language Spoken at Home by Ability to Speak English for the Population 5 Years and Over. 2013-2017 American Community Survey 5-Year Estimates. factfinder.census.gov.
FastStats. National Center for Health Statistics. Centers for Diesease Control and Preventions. cdc.gov/nchs/fastats
Paul, S. How Chase marketed to Chinese Americans, helping them master technology. Event Reports, 3AF Asian Marketing Summit, June 2016. warc.com/content/article/A108486_How_Chase_marketed_to_Chinese_Americans,_helping_them_master_technology/108486
Consumer Financial Protection Bureau. (Nov. 2017). Spotlight on serving limited English proficient consumers. Language access in the consumer financial marketplace. Report. consumerfinance.gov/data-research/research-reports/spotlight-serving-limitedenglish-proficient-consumers
Bain & Company. (Dec. 19, 2018). CX in Banking: Can Banks Get Some Love? bain.com/insights/cx-bank-loyalty-2018-infographic
Kelly, N. (Aug 03, 2012). Speak to Global Customers in Their Own Language. Harvard Business Review. hbr.org/2012/08/speak-toglobal-customers-in-t
Reichheld, F. Prescription for cutting costs. Bain & Company. bain.com/insights/topics/loyalty
Hofstede Insights. The 6 dimensions of national culture. https://www.hofstede-insights.com/country-comparison.
Zpryme Research & Consulting, ThinkNow Research. (Feb. 2013). Hispanic Mobile Banking Trends. Mobile Banking Usage Trends on Tablets & Smartphones. http://culturemarketingcouncil.org